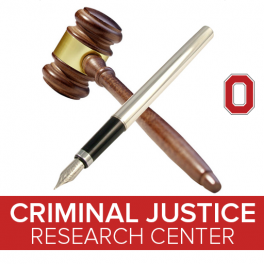 By Christopher Yanai, CJRC Program Manager
Mental health courts are designed to be a type of problem-solving court that combines judicial supervision with community mental health treatment and other support services to reduce criminal activity, enhance public safety and improve the quality of life of participants. As evidence of the positive impact of mental health courts in Ohio continues to grow, work is in progress to set up similar courts and programs for returning veterans. Recently, the CJRC was given the opportunity to discuss these programs and developments with the driving force behind so many of the recent changes in the criminal justice, policy and mental health systems in Ohio; an opportunity we could not pass up.
Justice Stratton (retired) is currently affiliated with the law firm of Vorys, Sater, Seymour and Pease LLP, where she continues to pursue her passion for public service and provides strategic legal counsel to the firm's clients. Prior to joining this firm, she served 16 years as a justice on the Supreme Court of Ohio and seven years as a trial judge in the Franklin County Court of Common Pleas. She counsels clients on a variety of practice areas, including appellate issues, litigation and health care.
I had the opportunity to sit down with Justice Stratton and candidly discuss her career, areas of professional interest and outlook for the future in the areas of law and criminal justice.
Justice Stratton has decades of trial and appellate experience. She spent the first nine years of her legal career as a central Ohio trial lawyer. In 1988, she became the first woman elected judge of the Franklin County Common Pleas Court. She was appointed to the Ohio Supreme Court by Governor George Voinovich in 1996 and was elected by Ohio voters to three six-year terms.
A spirited and dedicated public servant, Justice Stratton, formed and chaired the Supreme Court of Ohio Advisory Committee on Mental Illness & the Courts (ACMIC), which since its formation in 2001, has helped to establish 38 mental health courts, recommended changes to Medicaid and advocated for a new Juvenile Competency statute. Currently, she serves with Ohio Attorney General Mike DeWine as co-chair of the Attorney General's Task Force on Criminal Justice and Mental Illness. Justice Stratton also advocates for the development of veterans' courts, which assist returning veterans with post-traumatic stress and other issues that may lead them to criminal activity. In addition, she currently serves as president of the Ohio Military and Veterans Legal Assistance Program, a non-profit organization that operates as Operation Legal Help Ohio (OLHO). OHLO connects veterans and military families to a statewide system of referrals to pro bono lawyers, bar associations, legal aid and law school clinics.
Born to missionary parents in Bangkok, Thailand, Justice Stratton spent her childhood in Southeast Asia. She attended boarding school in South Vietnam at the height of the Vietnam War and later in Malaysia, visiting America on occasion with her parents. At age 18, she returned to America alone with only a few hundred dollars in her pocket. Working her way through school, she earned a Juris Doctor degree from The Ohio State University College of Law.
Nationally, Justice Stratton is co-founder and former co-chair of the Judges' Leadership Initiative, a professional association that supports cooperative mental health programs in the criminal justice system.
Among her many honors are the Congressional Coalition on Adoption's Angels Award, as well as the U.S. Department of Health and Human Services' Adoption Excellence Award.
Additionally, in May 2008, Justice Stratton received an Ellis Island Medal of Honor at a ceremony in New York City. Established in 1986 by the National Ethnic Coalition of Organizations, the Ellis Island Medals of Honor pay tribute to American citizens of diverse origins for their outstanding contributions to their communities, their nation and the world. Ranking among the nation's most prestigious awards, recipients are listed in the Congressional Record.
When reflecting upon her career, Justice Stratton reports that as a trial judge, she often observed defendants with co-occurring disorders (and often family members with similar issues). At the time, the view was that offenders would receive the services they needed in jail/prison. This was not the case as services in jails and prisons were not oriented to addressing the many mental health needs of offenders. As a result, she convoked a committee of 10 legal and government leaders to begin to develop programs, amend the system and create new programs that would address these issues. The result is that there are now 188 specialty dockets in Ohio's courts and more than 7,500 professionals in law enforcement, corrections, parole/probations and related fields trained in Crisis Intervention Training (CIT). Justice Stratton is very proud of the fact that Ohio leads the nation in addressing the connection of mental health issues to crime and punishment. Yet, she cautions that there is still a lot of work to do.
When asked what she believes will be the critical issues facing the criminal justice system over the next five years, Justice Stratton indicated that she believes there will be a continued recognition and discussion of the connection between mental illness and the criminal justice system. Policy makers, legislators and professionals will need to ensure that treatment, medications and sanctions are aligned to ensure safety and fairness. Additionally, Health Information Portability and Accountability Act (HIPAA) laws should be revisited to ensure a stronger public safety perspective especially in those cases in which a mentally ill person may become violent. Specifically, Justice Stratton discussed and referenced recent cases in which shooters with mental health issues used guns to commit heinous crimes in a variety of public settings resulting in the deaths of numerous innocent civilians. She does not foresee any major changes in the current gun laws nor does she foresee any significant progress in the area of gun control over the next five years. She also strongly believes that various groups in the communities, political arena, and government will continue and even accelerate the opportunities for 2nd chances and reentry.
In reference to her views on the ways the academic community can better assist practitioners in the criminal justice system, Justice Stratton was clear. Researchers must help gather, record and analyze the data that the various agencies are gathering. For our criminal justice systems to evolve in a positive direction, Justice Stratton is clear that "data drives policy change and improvement." Justice Stratton encourages researchers and faculty to "get connected with the field, you can see solutions that we cannot see, we need you!" She encourages students to visit court, go to a jail and visit a prison. Even if a student doesn't have a great amount of training or expertise, they must get in the field and develop a perspective. This is where change begins.
Justice Stratton believes her success over the years has been the result of making connections with people who have a passion for their work and helping them make the right connections to get results. She readily admits that when she began her work on CIT and specialty dockets, she had no special knowledge of mental health, drug addiction, reentry or any of the matters addressed by the courts. Instead, she was able to use her influence and the power of her office (she said with a smile) to gather those with knowledge and the ability to impact policy and drive them to work together to produce positive outcomes.
As a final piece of advice to our students, Justice Stratton encourages them to "take action." She firmly believes that "everyone can impact a change little by little; piece by piece; step by step and inch by inch even with no special knowledge."
---