November 26, 2018
Dr. Hollie Nyseth Brehm and Sade Lindsay (4th Year Graduate Student) Receive Awards at the Annual American Society of Criminology Conference in Atlanta, Georgia
Image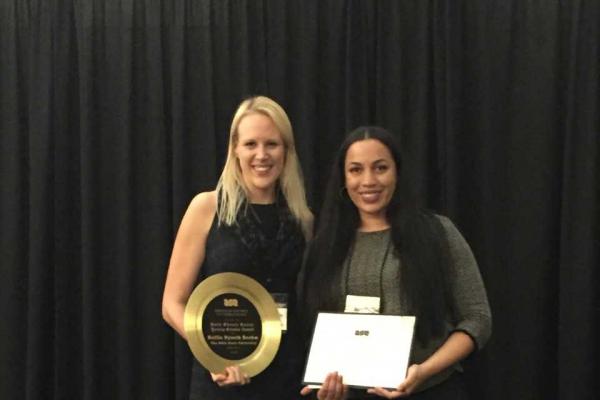 Description
Dr. Hollie Nyseth Brehm and Sade Lindsey (4th year graduate student) were presented with awards of excellence by ASC President Karen Heimer at the annual meeting of the American Society of Criminology in Atlanta, Georgia.  
RUTH D. PETERSON FELLOWSHIP FOR RACIAL AND ETHNIC DIVERSITY RECIPIENTS (given to two per year)
Sadé Lindsay is a fourth-year Sociology graduate student at The Ohio State University. Born and raised in Columbus, Ohio, she received her B.A. in Criminology and M.A. in Sociology at Ohio State in 2015 and 2017, respectively. Her research interests explore how gender and race shape experiences of incarceration, interactions with police, and cultural responses to deviance. She is involved in various projects, including the Women's Prison Inmate Network Study exploring women's experiences with incarceration, a project examining how police violence impacts Black women, and a study investigating how race shapes societal reactions to substance abuse. She has a forthcoming collaborative paper in The Prison Journal, which examines negative psychological adjustment associated with perceptions of fairness within the court system among male prisoners.
Sadé has won numerous awards for her research, including the 2018 Best Graduate Student Paper Award from the American Sociological Association's Communication, Information Technologies, and Media Section, Ohio State Sociology's 2017 Clyde Franklin Award for outstanding graduate student work in the study of race and/or gender, and second place in the 2017 Best Graduate Student Paper at Midwest Sociological Society. She has also received honorable mentions from the National Science Foundation and the Ford Foundation Fellowship Programs. Outside of academia, she mentors incarcerated Ohio youth and as a result, received Ohio State's College of Arts and Sciences'2018 Distinguished Service Graduate Student Award. For her dissertation, she plans to investigate the relationship between prison educational and vocational credentials and post-release employment outcomes among formerly incarcerated people. 
RUTH SHONLE CAVAN YOUNG SCHOLAR AWARD RECIPIENT (given to one a year)
Hollie Nyseth Brehm is an assistant professor of sociology at The Ohio State University. Her scholarship examines why the crime of genocide occurs and how countries rebuild in the aftermath. She has published more than 20 articles examining genocide and human rights, with recent articles appearing in Criminology, Social Problems, and Social Forces. Her current research is funded by two grants from the National Science Foundation—one that examines Rwanda's post-genocide gacaca courts and another that addresses prisoner reentry and reintegration after genocide. She has given a TEDx talk on eradicating genocide and has received the International Association of Genocide Scholars' Emerging Scholar Prize. Nyseth Brehm serves on a U.S. government atrocity prevention task force and works with Rwanda's National Commission for the Fight Against Genocide and the Institute of Research and Dialogue for Peace. She is also on the board of the International Association of Genocide Scholars, I-Activism (which helps build schools in refugee camps), and Refuge, a nonpro t she and her students founded that pairs adolescent refugees with a college student mentor in a college-readiness program. At Ohio State, Nyseth Brehm teaches classes on genocide, terrorism, and violence, and she created a study abroad program to bring Ohio State students to Rwanda each summer. She has been awarded both the college's and the university's highest teaching honors, and she has received the college's mentoring award for her avid support of undergraduate research.
---