January 7, 2019
Research Studying Online Criminal Drug Markets by Dr. Dana Haynie and PhD Candidate Scott Duxbury Featured by the College of Arts and Sciences as one of 2018's "High Points"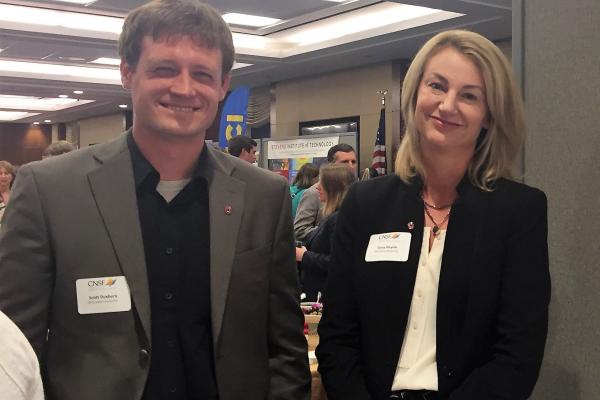 The College of Arts and Sciences is featuring research by Dr. Dana Haynie and Scott Duxbury as part of 2018's High Point recognition of excellence for the year.  The college is proud of its extraordinary artists, scholars, scientists and spaces. Addtional information on the 2018 High Points selections can be found here:  High Points
Ohio State sociologists Dr. Dana Haynie and Scott Duxbury PhD candidate are understanding how darknet drug markets operate on a sociological level, which could help improve law enforcement strategies.  Haynie and Duxbury, in the Department of Sociology, have been observing one of the largest darknet drug markets operating today, with a focus on the social network dynamics that sustain it.
Their research was recently selected to represent the American Sociological Association at the Coalition for National Science Funding Exhibition and Reception, which is held annually on Capitol Hill to promote the benefits of federally funded science to politicians and policy makers. Haynie and Duxbury also had the opportunity to meet with the offices of Ohio Sens. Sherrod Brown and Rob Portman, as well as Reps. Joyce Beatty and Steve Stivers.
This research is made possible with support from the National Science Foundation, and collaborators Srinivasan Parthasarathy and Mohit Jangid, professor and graduate student, respectively, in Ohio State's Department of Computer Science and Engineering.
Dr. Dana Haynie is a Professor of Sociology and the Director of the Criminal Justice Research Center.  Scott Duxbury is currently a PhD candiate in the sociology department.
---